Buying a Used Car from a Dealership? Here are 8 Things You Must Inspect
Posted Monday, Apr 24, 2023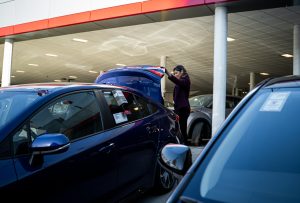 Many people usually prefer to buy a used car as it doesn't break the bank, and they can actually get a good-condition car at a reasonable price. Car experts recommend buying used cars from a reliable used car dealership, as they can offer excellent customer service with maximum reliability.
Now even though the dealership takes care of the most important aspects of buying a used car, like the proper documentation process for the transfer of the car, inspecting the car for damages, and designing a financial plan that suits both the dealership and the buyer.
However, there are some things that you must know in advance before going to a used car dealership.
1. Understand Your Requirements
Now that you have decided that you want to purchase a new car. Have you got a particular car in mind? Which model are you looking for? Who are the manufacturers you are after? In what condition must your used car be? And most importantly, what is your budget?
When you have done your homework and made up your mind about your desired car, you can visit a used auto dealership to hunt for that particular car you want.
2. Investigate the History Report
Usually, a dealership will take care that all documentation is compiled and arranged for the transfer of a used car. It is always better to do your own investigation so that you are satisfied with your purchase.
Oftentimes, dealerships like to recondition a car or fix its major flaws so that it looks as good as new. However, you must demand the vehicle history from your dealership so that you can inspect any previous reports about accidents or liens.
You can also use an online website to verify and obtain reports using the vehicle identification number.
3. Additional Offers Can Cost You Thousands of Dollars
Used car dealerships are very prompt in addressing the buyers' concerns and providing excellent customer service. But it can sometimes not turn out in the buyer's favor, as the add-on costs can reach thousands of dollars, and include additional services by the dealership like rustproofing, VIN etching, and gap insurance.
It is essential to inquire about these add-ons if your dealer doesn't discuss them with you. In this way, you will be saved from buying a vehicle that will cost you a lot later on.
4. Do Your Own Inspection of the Car
Yes, the used car dealerships arrange for a professional team to inspect every car they display. But it is always a good idea to hire your own independent mechanic to accompany you and perform a mechanical inspection of the car.
Even if the car is certified and the dealership is offering a warranty service, by paying a small fee to a car mechanic, you can avoid any major problems in the future that will demand large sums of money from your wallet.
5. Discuss the Finances
One of the most important reasons why people like to buy used cars from a dealership is because they offer flexible payment options. A private seller will demand a full payment in cash, whereas a dealership will settle the finances over time with easy down payments.
While financing is a great option for those who cannot afford or don't want to invest a hefty amount of money in their used car, it can increase the total cost of the car you'll be paying over time.
You must consider the cost of credit, the interest, how much you are paying as a down payment, what will be the monthly payments, and the total financing period, including the APR.
When you have decided about financing your used car keeping the above factors in mind, you will know the total cost you are paying for the car. Keeping in mind this financial issue, you should browse other dealerships and compare the separate offers, settling on the best deal that you are getting.
6. A Test Drive Is a Must
You will never know how the car drives and which condition it is in until you do a test drive. Once you have settled upon a car you are interested in buying, take it out for a test drive to test its features and feel interior.
Many people are picky about the handling, comfort, and overall drive of their car, and if you are one of those, never purchase a used car without doing a test drive.
While driving the car, you can listen to any noises the car's components are making and check the air conditioning, heating system, entertainment systems, and light indicators on your dashboard.
7. Check the Warranty
The car you buy from a used car dealership can be certified pre-owned, which is the manufacturer's warranty. These kinds of cars are a bit more expensive than others.
It is important to check the warranty and repairs of any car you are buying from a dealership. Especially when the dealer is offering the car under an "as is" deal, there might be some vehicles that are covered under warranty from a third party.
Usually, a used car dealership will let you know about the proper warranty information, but you also must actively inquire about the warranty and repair promises that the dealership makes. According to FTC, used car dealerships are bound to be transparent and honest with the buyers, so ensure that you don't buy a used car with proper documentation.
8. Negotiate With the Dealership
Dealerships can sell used cars at a higher price than what you get from a private owner, but that doesn't mean they don't allow negotiations. When you listen to the price quoted by the dealership, do your research and then offer the price reduction you are hoping to receive.
When you know the ownership and vehicle history and ask a mechanic to do a professional evaluation of the used car, you will be able to come up with a reasonable quote that matches the condition of the car. Most of the time, the dealership agrees to the negotiations.
Conclusion
While a used car dealership offers a reliable and secure purchase of a used car, it is always better to be vigilant on your own and do your own investigation before purchasing a vehicle.
If you want to purchase a good-condition used car in Thousand Oaks, CA, we at Inside Car Guys are available to provide you with an excellent and convenient service.